ARE THEY IRREGULAR MOONS OR IRREGULAR SATELLITES?
Definition
In astro-speak, they are satellites. There is only one Moon and it is the Earth's satellite.
However, in everyday useage, the word "satellite" has come to be associated with man-made orbiting devices, while "moon" refers to any natural satellite of a planet. So, they are strictly irregular satellites but everyone will know what you mean by irregular moons.
Is this a big deal?
Not at all. As long as we know what we're talking about, both names are fine. Increasingly, they are used interchangably by planetary astronomers (who should know better!).
David Jewitt.

David Jewitt Home Page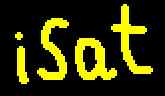 Irregular Satellites Page