Where is MESSENGER?
To help my colleagues and I keep track of MESSENGER's position in its orbit around Mercury, I wrote an application for Android phones. I hope you enjoy it!
You should be able to find it for free on the Android market with the title "Where is MESSENGER?".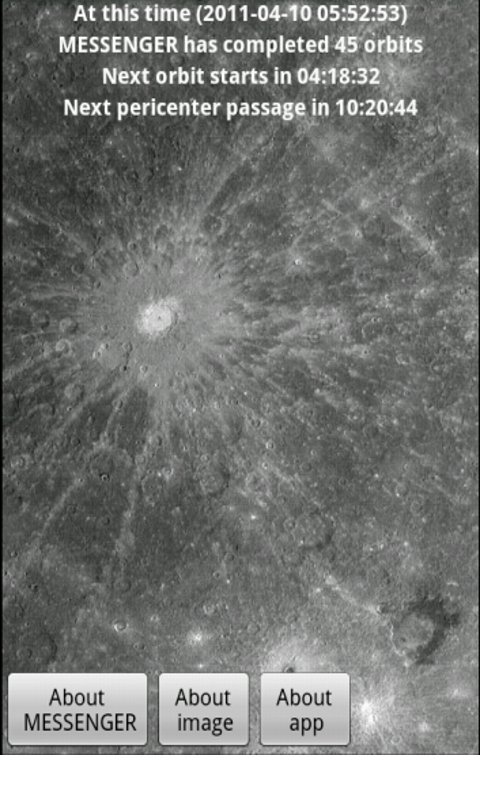 The application is developed with superb software tools that are available for free. This is my first Android application and there may be problems with it. Please send me comments and bug reports so that I can improve it. If you are a UCLA student interested in contributing, please let me know.
Potential features for future releases:
Larger collection of images and captions.
Scale bar on images.
Zooming/stretching of images.
Orbit diagrams.
Spacecraft position, velocity.
Sub-spacecraft latitude and longitude.
Modeled spacecraft temperatures.
Modeled propellant reserves.
Optional query of trajectory server for more accurate data.
Possible port to iPhone, if Apple allows free distribution of free software (hey, Google does).
...
Contact:
Jean-Luc Margot
Dept. of Earth and Space Sciences
Dept. of Physics and Astronomy
University of California, Los Angeles
595 Charles Young Drive East
5642 Geology Building
Los Angeles, CA 90095
310 206 8345
jlm@ess.ucla.edu